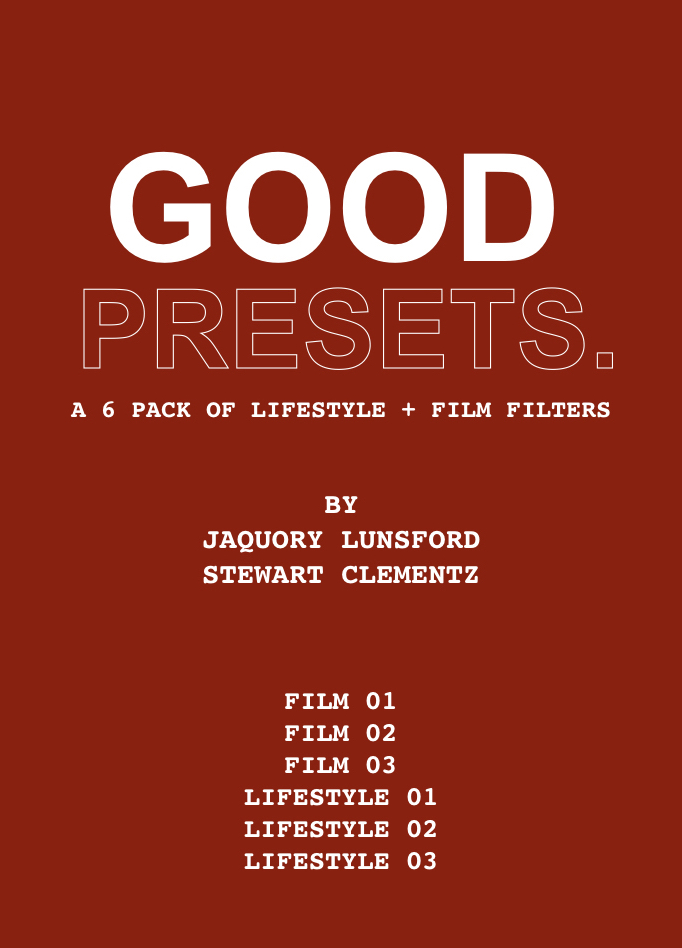 GOOD PRESETS.
In this pack you will recieve 6 Lightroom presets.
We've created the perfect preset pack. With a mix of vintage film presets from stew and lifestyle filters from jaquory, this is an essential for any photographer. To learn more, click here.
FILM 01 - A preset for soft lighting, with subtle grain and vintage tones. Replicating the style and vibe of Portra 400 film, this preset will make any photo feel like it was taken on your grandpas old SLR.
FILM 02 - A preset for flash / or over exposed photos. With blown out highlights, vibrant colors, and heavy grain, this filter is guaranteed to make keep your feed wild.
FILM 03 - A muted preset with raised shadows and light fade. Works well in soft or harsh light while accenting soft skin tones. Once again, guaranteed to look like your grandpas old film photos.
LIFESTYLE 01 - A fun flash preset with just the right amount of fade and contrast. This is the only flash preset you will ever need to buy.
LIFESTYLE 02 - A lifestyle preset so perfect, you might change your bio to "not all who wander are lost". This preset literally works on every picture, you have our guarantee.
LIFESTYLE 03 - When you finally decide to post a black and white photo and ruin your feed, this is the preset you're gonna use. Light contrast and raised blacks, and the perfect amount of fade.